Calendar: On Tour, On Stage
(updated 7/13/2020)
---
Claudia's SongShop (workshop in song interpretation) will return Tuesday evenings at DePaul School of Music,Fall 2020; Saturday sessions are via Zoom. Learn more at SongShopLive.com.
---

TUESDAY, JULY 14, 2020 from 6 PM to 9 PM.
Marchesa at 535 N Wells St, Chicago, IL 60654
BASTILLE DAY celebration (Chef Didier's famous dishes are described below)
CLAUDIA HOMMEL and accordionist Patricia Spaeth will stay put in a safe 8-foot perimeter while you dine on the patio or in the dining room, all café windows wide open. French songs by request. Seating begins at 6:00 PM. Call 312.527.9535 for Reservations

Call 312-527-9535 to reserve. LIMITED SEATING.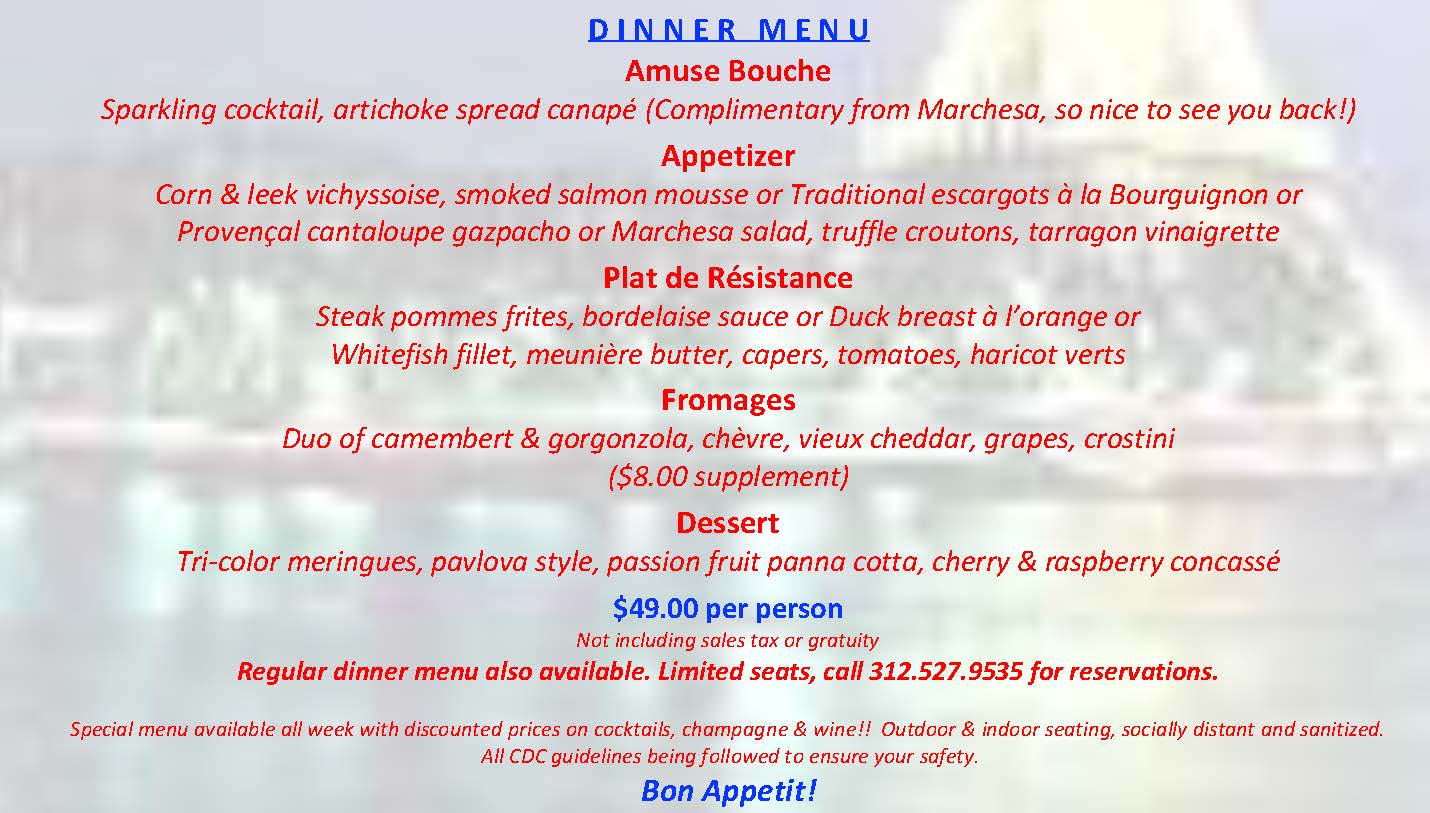 ---
---
AUGUST 2020
Hello! Goodbye! — the third of three SongShop salon concerts
WILL BE RESCHEDULED for the garden at Claudia's home in Albany Park

Elizabeth Doyle at the keyboard. Featuring Patrick Davis, Christian Halvorsen, Sharon Waltham and others.

---
IN THE WORKS
DECEMBER 2, 2020: "Inspired by Frida Kahlo" Vocal Canvas luncheon concert with Elizabeth Doyle and amigas, for the West Suburban Art Society in Lombard
FEBRUARY 2021: Return to Grosse Pointe, Michigan to advance the cause of French Forever in the Pointes.
JUNE 23-27, 2021: Producing the premiere of Future Perfect the opera.