An American from Paris
LIFELINES
By Lisa Bertagnoli
Special to the
Chicago Tribune
With her dark, curly hair, fine features and lithe figure, Claudia Hommel certainly looks French. And when she sings French songs, those made popular by Edith Piaf and Yves Montand, Hommel certainly sounds French.
But she's not. The cabaret singer and educator was born in Paris to American parents. Her family moved to Detroit when she was 4, and initially she tried to hide her French roots. "When you're that age and nobody is speaking French, the normal reaction is to push it aside, which I did with a vengeance," she says.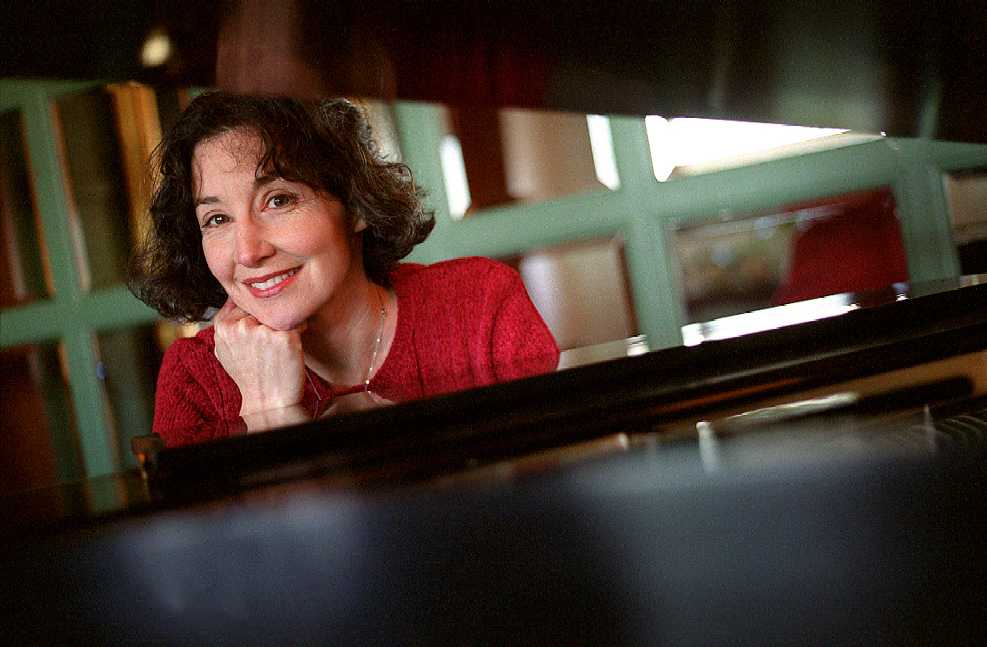 Her mother, however, continued to saturate Hommel with French culture and, by the time she was 8, Hommel had overcome her resistance, a capitulation that would figure in her singing career.
That career came about almost by accident. Hommel sang in high school but not well enough to consider a music career. At Antioch College in Yellow Springs, Ohio, she majored in history, taking voice lessons along the way. After graduating, she trudged along a traditional career path, earning a master's in library science from Wayne State University, until one magic day. "I had a new voice teacher, and she told me I was a performer," Hommel says.
That insight prompted Hommel to audition for an opera workshop, and her music career took off. She stayed in Detroit for a while, doing music theater, spent a few years in New York, and eventually landed in Chicago. "New York is for people who want to be famous," Hommel says. "Chicago is for people who want to work."
All the while, though, she had been avoiding singing French songs. That changed when in 1994, she met a Haitian businessman who wanted to put her on the cover of a French magazine he hoped to publish. She learned 36 French songs, and debuted her cabaret act at the old Chez Paul restaurant on Rush Street. "It was a disaster. I had too many new songs," Hommel recalls ruefully.
Despite wobbly beginnings, her cabaret career has since flourished, both through performances and the three CDs she has recorded on her label, Maison Clobert.
Making a good performance:
The audience makes a good performance. When they know that you're telling your story and speaking to their feelings, that's when they start to give back to you. Because you've hooked into things they know, or the fantasies they have. I never sang love songs before. I avoided love songs until the audience taught me that there's this wonderful place called romance. You can go there, and it's OK."
Making cabaret pay:
[I] did "Souvenirs of Paris 1950," a cabaret theater piece, at the Royal George in the summer of 1994. It's how a lot of the Francophones and Francophiles in town discovered me. Teachers of French found me and asked me to bring cabaret to the schools. That made it possible to earn a living. You can't make a living doing cabaret in this town. We don't have independent cabaret rooms; we don't have what we've had with Toulouse on the Park and the Gold Star Sardine Bar, rooms people would go to regardless of who was singing. But taking cabaret to schools is a whole other story. I have yet to lose a school audience. They're not jaded; they're totally open to the experience.
When onstage:
It's pretty much me to the max. I don't shift gears; I'm not a different person in terms of my beliefs. I'm 100 percent opposed to the war on Afghanistan. When there have been occasions to speak to that, I will. But it depends on the show. If you're coming to a show called "Romance Language," you're not expecting me to go into diatribes about how I feel about the war.
Sticking with cabaret:
The advantage of being a cabaret singer is that it gets better as you get older. Cabaret's about truth telling, and as you get older, you get a little more in touch with what the truth is. You wise up.
Copyright © 2002, Chicago Tribune